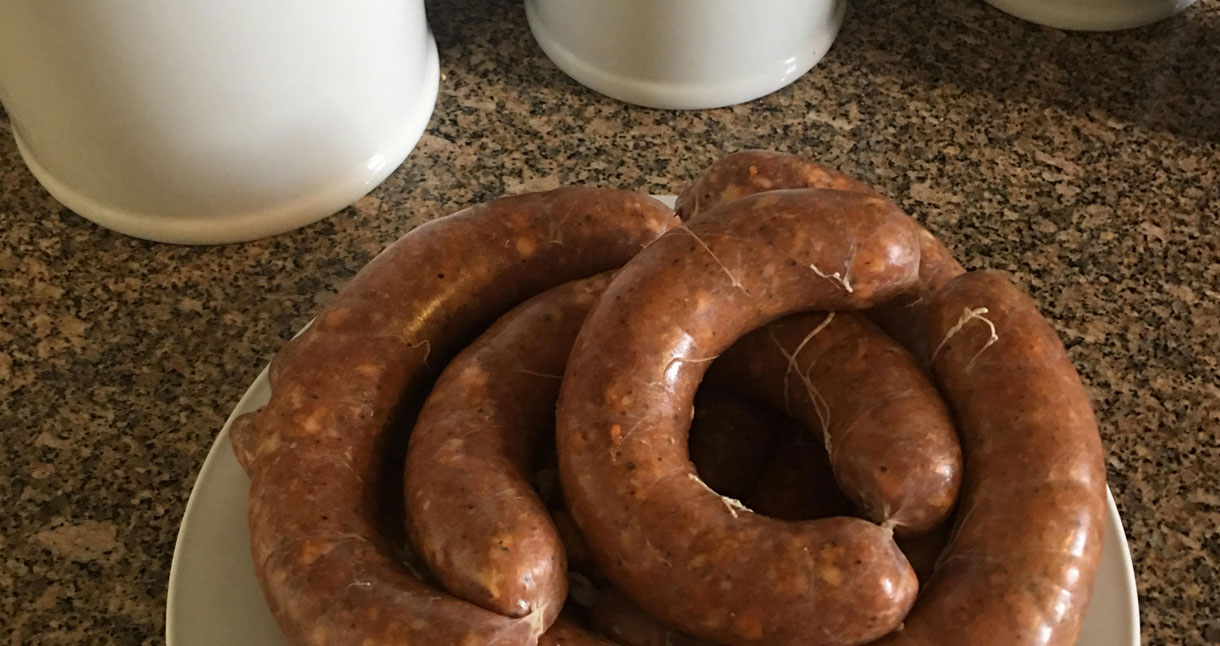 Real Men Cure Sausage
If I was sentenced to death, my last meal would consist of a bottle of 1982 Chateau Mouton Rothschild and a USDA Prime bone-in filet mignon. A close second would be a tray of dry cured sausage- known as Saucisson Sec-with of course the Mouton! Dry cured sausage is one of those versatile foods that you can dress up or dress down. Whether your in the duck blind with your comrades or fancy dinner party with the wife this sausage is for you! What makes it really awesome is that you have made it! So let's get to it! When you are finished with this recipe you will be able to cure your own sausage in 21 days! Guaranteed.
-Stats-
Total Work Time: About an hour
Yield: Around 8ft of sausage
-Ingredient List-
4 and 1/2 pounds of Pork Tenderloin it Pork meat
1/2 pound fatback
1 and 1/2 oz. sea salt
1/2oz black pepper
1/2oz dextrose
1/4oz curing salt #2 (make sure you have #2, not quick cure or curing salt #1)
1 and 1/2oz crushed garlic
1/4 cup white wine
Natural Hog casings
Before you get started…
put all grinder items, bowls, etc in freezer. Also put your Pork (meat and fat) in freezer for 3 hours or over night. This will make the grinding process a breeze. If you try grinding when the meat is soft, you'll have a mess. I like using the Kitchen Aid meat grinder attachment.
https://www.amazon.com/dp/B00004SGFH/ref=cm_sw_r_sms_c_api_i_VQKwCbYT4HMTH
Soak the hog casings in tepid water for about two hours. I get mine on amazon, kinda funny ordering hog casings from amazon but hey! See link below.
https://www.amazon.com/dp/B0085DQ1L6?ref=ppx_pop_mob_ap_share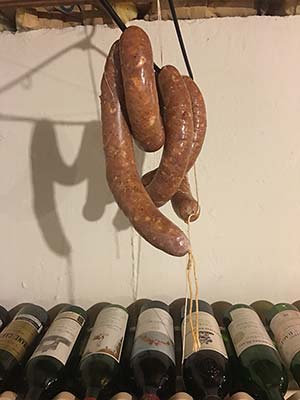 Step 1)
Prepare dry ingredients. Add the salt, curing salt #2, pepper, dextrose in a small bowl and set aside.
Step 2)
Grind the sausage using the large sausage grinder plate. Cut up the firm cold pieces of sausage into chunks and put it through the grinder! I try to alternate a couple pieces of meat followed by the fat back.
Step 3)
After the sausage is ground. Sprinkle dry ingredients all over the ground meat and mix together with your hands (I use surgeon gloves) to keep my hands clean.
Step 4)
Add the white wine! If you choose to make a red sausage, then add red wine and 2 tablespoons of paprika instead of the white wine. Either way is rock solid and won't disappoint.
Step 5)
Stuff the sausage. Keep the casing wet while you work with it. Slide the casing onto the funnel but don't make a knot. Put the mixture in the stuffer and pack it down. Begin extruding. As the mixture comes out, pull the casing back over the nozzle and tie a knot.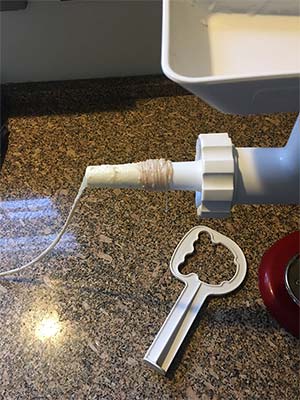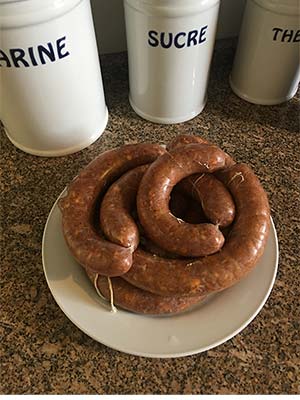 Step 6)
Extrude one full coil, about 8ft long, and tie it off. Crimp with fingers to separate 
sausages
 into 12 inch lengths. Twist the casing once one way, then the other between each 
sausage
 link. Repeat along the entire coil. Once the 
sausage
 is cased, use a sterile needle to prick any air pockets. Prick each 
sausage
 4 or 5 times. Repeat the casing process to use remaining 
sausage
.
Step 7)
Hang the 
sausages
 to cure 18 to 20 days at 60 F–75 F. These can be refrigerated, wrapped, for up to 6 months.  I hang mine in my cellar in the basement.  I will also use a humidifier (refilled each day) for 10 days to slow the drying process. You can also hang a soaked wet towel next to the 
sausage
 and put a bucket underneath but humidifier is easier!
Brett A. Goldschmidt
Missouri Sportsman's Club