Tim Ridderbos
Tim was born and raised in St. Louis, Missouri. Growing up, his father taught him the importance of conservation and the joys of hunting and fishing. More importantly he was taught about faith in God. Drawing on his years of being an outdoors-man and a man of faith, Tim seeks to facilitate events for sportsmen seeking fellowship. Fellowship and Friendship are important factors in any mans life. As we continue to become less connected as a society, Tim hopes you will find a group of men to build life long relationships with in the Missouri Sportsman's Club.
Tim still lives in St. Louis with his wife Melissa and huntin' dog Bella.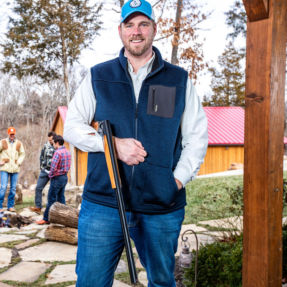 Glenn Guenther
Glenn grew up in Louisville Kentucky and has fond memories of recreating with his family and friends on lakes and rivers in Kentucky and Tennessee. Thus, his love of fishing. He learned a tiny bit about hunting as a boy under the watchful eye of his maternal grandfather, known as "Doc", who was a pharmacist by trade. Adulthood and raising a family soon took hold and only recently, has Glenn begun hunting and fishing again. The one thing that did stick with Glenn was his grandfather's love of Jesus. Glenn has no doubt that he met Jesus through his Doc. "There's nothing better than walking the fields or standing in a trout stream with a couple of friends talking about life, the good times and the tough times".
Glenn has always had a love for cultivating and deepening relationships. He's passionate about MOSC's unique ability to combine family, friends and faith with God's great outdoors. Glenn is married to Eileen and through their combined family, have seven adult children and eight grandbabies. Come and See!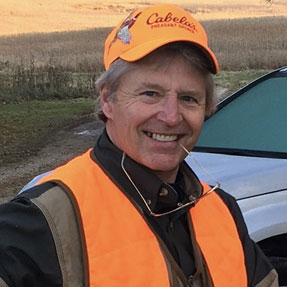 Jeswin Raj
Born and raised in India, Jeswin moved to St. Louis with his family back in 2006. Never fished or hunted in India, he got hooked into fishing the very first time he was introduced to it by his brother. Jeswin and his son Joel love to go trout fishing early in the morning. Montauk and Westover Farms are their favorite fishing spots around St. Louis. Jeswin works as a senior project manager at a gps fleet tracking company. He serves as a deacon in Journey, West County.
Jeswin lives in St. Louis with his wife Anita, son Joel, daughter Jessica and their black lab Jet.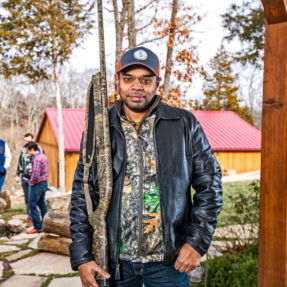 Brett A. Goldschmidt
Brett was first introduced to fishing and shooting sports through his grandfather Albert Goldschmidt. Brett grew up in Saint Louis County but spent every weekend at his grandfather's farm in southern Illinois. Grandpa Choo-Choo, as he was known, (he lived by railroad tracks) taught him how to fish, hunt, and the importance of outdoor conservation. Brett continues this legacy and love for the outdoors with the Missouri Sportsman's Club- a men's club designed to provide fertile soil for men to connect and share life together.
Brett enjoys fly fishing, shooting sports and competition BBQ. Brett and his wife Leigh, live in St Louis with their daughter, and Springer Spaniel Gauge.